Treating Hands & Feet At The Same Time
Patients diagnosed with hyperhidrosis, or excessive sweating, often struggle with palmar-plantar (hands and feet) symptoms the worst. Sweat can get in the way of daily activities, from shaking hands to completing homework without smudge marks. Due to the constant evaporation, your hands may feel cold and clammy. Even grabbing slick objects might be challenging for you. On your feet, the constant wetness is a breeding ground for viral and bacterial infections, including athlete's foot.
Forced to treat both hands and both feet, patients often require treatment times that are 2x as long compared to say axillary patients treating only their underarms. Speed, convenience, and effectiveness jettison to the top of the priority list when evaluating hyperhidrosis solutions. That's why more palmar-plantar patients are moving to dual iontophoresis treatments.
The Fischer is a hospital-grade device for tap water iontophoresis as seen in professional settings, medical practices, and homes around the world. The water bath trays were designed to accommodate both hands and both feet at the same time, allowing patients to position one on a table and one on the floor and dual-treat from a seated position.

What once was a 40-60 minute treatment with repositioning of the water bath trays becomes a fixed 20-minutes treatment.
Most modern iontophoresis devices feature an automatic polarity switch. This reverses the direction of the ion current at the halfway point in the treatment, allowing for each extremity to receive equal distribution of the positive polarity. Why is that important? The positive polarity has been clinically-proven to deliver better therapeutic results.

Instead of having to remove a hand to change the polarity manually, patients can sit back comfortably for the entirety of their 20-minute treatment.
The size of The Fischer's silicone-graphite electrodes allows for adequate coverage of the skin's surface area when treating both hands and feet at the same time. Treatment Specialists still recommend that patients begin iontophoresis by treating their hands and feet separately to ensure the speediest results in both areas, due to the differential in skin thickness between your palms and soles. But once patients are 100% dry and beginning to reduce frequency, most will transition to a dual hands and feet treatment to reduce the individual session time as well.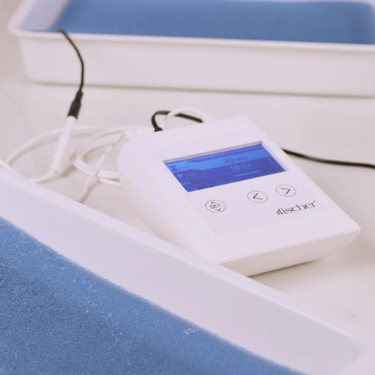 Compared to narrow metal electrodes or compact iontophoresis options, the proportions of The Fischer's water bath trays, pH-balancing foam inserts, and silicone-graphite electrodes conveniently accommodate simultaneous treatment of hands and feet without sacrificing effectiveness.
From our experience here at RA Fischer, dual treatment is especially beneficial for pediatric hyperhidrosis patients. The shorter session duration can help them mentally embrace the treatment, which helps to ensure success. Our Fischer boasts a 98% success rate for patients!
"Talk to our Treatment Specialists today to see why the Fischer iontophoresis device is the best treatment available for hyperhidrosis and to check insurance benefits."
Jennifer Jacobellis - CEO
see if your insurance covers
Ask our Treatment Specialists to check your insurance benefits and eligibility today! We work with Tricare, Aetna, UMR, United & more.